Suzuken Community Seminar
Suzuken aims to contribute not only to physical health, but also to psychological well-being. To this end, it has joined with NHK Culture Centers to offer seminars for the public. The seminars commenced in Nagoya in April 2001, starting in Tokyo in July 2004, and extending to Osaka in April 2005. To date, over 30,000 people have attended the seminars which address the theme of how to live a fulfilling life. The most eminent experts from a variety of fields are invited to speak on the theme of 'opening doors to the era of the mind and spirit.' Moreover, to provide food for thought to young people-the future of Japan-we invite school and university students to attend lectures free of charge.
Support for Foundations
As part of its social contribution activities, Suzuken carries out support activities for the Suzuken Memorial Foundation and The Akiyama Life Science Foundation.
Suzuken Memorial Foundation-Conducting research into applications for medical science
The Suzuken Memorial Foundation was established in 1981 to carry on the wishes of the Suzuken Group's founder, Kenzo Suzuki. The foundation aims to contribute to the progress of public health-related science and to higher standards in national health and welfare services. To that end, it provides financial assistance for investigative research into medical applications for the various healthcare-related sciences. It also conducts biannual lectures for doctors and other health professionals.
The Akiyama Foundation
The Akiyama Foundation was established in 1987 to carry on the legacy of Konoshin Akiyama, the third president of Akiyama Inc., a pharmaceutical wholesaler that merged with Suzuken in 1998. By supporting basic life science research in Hokkaido, the most northern island of Japan, fostering young researchers and encouraging international academic exchange, the foundation aims to promote and advance learning in Hokkaido and improve the health and welfare of its citizens, as well as help local areas become more international in outlook. The foundation provides financial support toward these ends.
Suzuken Group Original Calendars Given to Kindergartens and Daycare Centers
Since 2010, Suzuken Group has donated Suzuken Group Original Calendars to facilities such as kindergartens and daycare centers throughout Japan in the hope of contributing to the healthy development of children, who are the future. The calendars feature characters from the "Tom and Jerry" animation series and seasonal health-related messages. To date, we have donated about 34,000 calendars to about 4,200 kindergartens and daycare centers.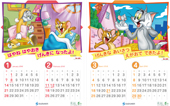 TOM AND JERRY and all related characters and elements © & ™ Turner Entertainment Co. (s17)
Installation of Automatic External Defibrillator (AED) Equipment
Suzuken has installed automatic external defibrillator (AED) equipment at 46 of its business sites, including the head office and distribution centers, aimed at providing life-saving measures for customers and employees and to make a contribution to local society.
The equipment has been provided in a way that allows anyone to use it should they need to. The company posts stickers labeled "AED-Installed Place of Business" at the entrances to buildings where this equipment is installed.